Our February Meeting: Comunidad celebrates Mardi Gras.
Mardi Gras Lets Get the Party Started by Anthony Falbo
Tuesday, Februray 2nd, 7:00 p.m., Fr. Gerald Meisel Hall, St. Matthew Catholic Church, 672 Temple Ave., Long Beach
A Christian holiday and popular cultural phenomenon, Mardi Gras dates back thousands of years to pagan spring and fertility rites. Also known as Carnival, it is celebrated in many countries around the world–mainly those with large Roman Catholic populations–on the day before the religious season of Lent begins. The "Carnival" season begins after the feast of the Epiphany. Brazil, Venice and New Orleans play host to some of the holiday's most famous public festivities, drawing thousands of tourists and revelers every year.

For Comunidad February meeting, test your Mardi Gras knowledge with a special quiz. Please bring a dish or dessert to share. Celebratory dress and masks are optional, but don't forget your beads.

figure>
A Visual Lenten Journey
Detail from "Ash Wednesday" 1860, Cark Spitzweg (1808-1885)
Loyola Press offers a wonderful on-line means to reflect on Lent, which we recommend, Arts & Faith: Lent. Aptly advertized as "a visual prayer experience," the series covers Lent's Sunday scriptures through a look at and reflection upon art that is inspired by these same readings. Each of the eleven entries in the series—which correspond to each of the eleven main services that the Church celebrates during Lent starting with Ash Wednesday and ending on Easter Sunday—includes a short (approx. 3-minute) video as well as a brief comment by Daniella Zsupan-Jerome, assistant professor of liturgy, catechesis, and evangelization at Loyola University New Orleans. This series offers a means to take a fresh look at this season of spiritual renewal through the lens of sacred art. Given that this year the Church is proclaiming readings from Sunday cycle C, we suggest using the site's videos that correspond to cycle C, for doing so will offer the most coherence to the readings heard at this year's Lenten Sunday Masses. But as you'll see when you visit the site's home page, there are also available videos that correspond to cycles A and B.
Los Angeles Archdiocesan 2016 Religious Education Congress—"Boundless Mercy"
Friday, February 25th–Sunday, February 28th, Anaheim Convention Center, Anaheim, CA
The annual Religious Education Congress held at the Anaheim Convention Center is celebrating its 60th year this February. As always, on the Thursday prior (February 24th) "Youth Day" is held for High School students. Friday through Sunday events are open to adults and young adults alike. More than 200 speakers will be presenting over 300 workshops, and there will also be lunchtime entertainment, evening concerts, films, various liturgies, and the Exhibit Hall, which this year will be home to 489 booths covering all manner of artists and art galleries, music and publishing houses, educational institutions, and Archdiocesan ministries.
The Archdiocesan Catholic Ministry with Lesbian and Gay Persons will be hosting a booth in the exhibit hall that will be staffed by some members from Comunidad and well as persons from other parish—based gay and lesbian ministry programs from around the archdiocese.
Track 3—09, "LOVE IS OUR MISSION WITH LGBT CATHOLICS: CHURCH AND FAMILY FULLY ALIVE" (Friday, 3:00p-4:30p), facilitated by Fr. Chris Ponnet and Arthur Fitzmaurice, PhD

Pope Francis challenges the Church to acknowledge difficult pastoral situations and respond with love and mercy. The Synod on the Family has accordingly opened a space to hear the stories of families of lesbian, gay, bisexual and transgender (LGBT) Catholics. In this workshop, we will present a brief background of Church teachings on homosexuality. Our focus will be discussing the writings surrounding the Synod and reflecting on how the Church and our families can grow fully alive through love and acceptance of LGBT Catholics.
Track 5—12, "TRANSGENDER IN THE CHURCH: ONE BREAD, ONE BODY" (Saturday, 1:00p—2:30p), facilitated by Fr. Byran N. Massingale and Arthur Fitzmaurice, PhD and a panel of gay and lesbian Catholics

Gender identity and expression – even the word "transgender" – have found their way into secular and ecclesial discourse. Dr. Arthur Fitzmaurice will speak from a decade of experience ministering with transgender and other marginalized Catholics as he moderates a panel with Fr. Bryan Massingale and two transgender Catholics. Fr. Massingale will consider theological and pastoral perspectives, and the transgender Catholics will offer narratives of their spiritual journeys. All will suggest ways we can respond to those who are transgender or discerning their gender identity. Insights from Church history, theology and bioethics will help explore the beauty of gender diversity within our faith communities.
With 487 other presentations—most in English, but quite a few in Spanish and Vietnamese—there is sure to be something for everyone. More about the Congress is available on their web site.
Our March Meeting: Stations of the Cross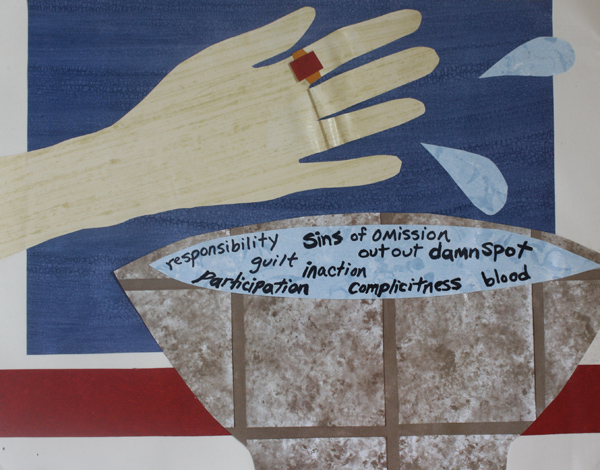 Jesus is condemned by Jessica Miller Kelley
Tuesday, March 1st, 7:00 p.m., Fr. Gerald Meisel Hall, St. Matthew Catholic Church, 672 Temple Ave., Long Beach
On Tuesday, March 1st, Comunidad prays the Stations of the Cross. The Stations recall the Via Dolorosa, the path that Jesus walked on the way to His crucifixion. Along the way we reflect on our own journey as Gay and Lesbian Catholics. We will begin in the Fr. Gerald Meisel Parish Hall at 7PM with Stations following at 7:30PM in the Church. At the completion of the Stations, we will return to the hall for light refreshments per the Lenten season. All are welcome to share in this experience. Please join us.
Food for Thought: Catholic Parents of LGBTQ Children
Videos Released by Ignatian News Network
Given the subject of our featured article by Anna Totta, we thought it worth again calling your attention to two episodes to the Ignatian News Network's video series. The first videos in the series, parts one and two of "Who Are We to Judge?—Gay Catholics," were published in July of last year. The two new episodes focus not on lesbian and gay Catholics themselves but on "Catholic parents of LGBTQ children." We think the videos are worth watching and thinking about. Each episode runs about six minutes. The videos are hosted on Ignatian New Network's YouTube channel, "IN Network."